This is a glimpse of what we can provide, details on specific disciplines are below.
Rafting
Senior ACC River Safe Programme
Sea kayaking
Bushcraft
Archery
Orienteering
Adventure Based Learning (team initiatives)
Imagine your class being taught the skills to paddle a raft or go tramping and arrive in time to set up camp and catch a fish for dinner. Then take time the next day to explore the area and practice navigation skills, learn water safety skills, undertake initiative activities or any combination of things that would make for a brilliant trip. Your role in this could be as simple as being a participant and enjoying the scenic surroundings.
We can run half day activity sessions or manage multi day camps and trips. Wild Earth staff are very familiar with instructing at Otago school camp facilities such as Berwick, Tautuku, Tirohanga and Waiora.
We also have a wide range of hire gear such as boots, rain coats, tents, cookers available, see our gear hire information for details and costs.
Rafting
Experience a raft trip on the Taieri River, learn basic rafting skills, and hear about the natural and cultural history of the Taieri River. Or for some thing more testing… take on the Taieri Challenge, a combination trip with rafting and team building activities. Challenge your students to perform to their best!
ACC RiverSafe Programme
This fun day for years 9-13 is a combination of theory and river based activities about learning to make good, safe decisions in, on and around rivers.
We can run the activity as a full day stand-alone day consisting of a theory morning with our trained instructor(s). Your group would then relocate to the Taieri River to spend the afternoon in the water, putting into practice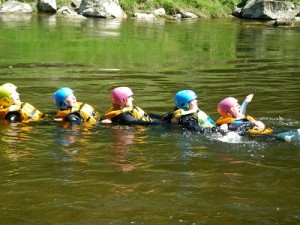 the lessons learnt in the morning.
Each student will receive an ACC RiverSafe Certificate for completing the day's activities.
This programme can also be run in conjunction with our rafting trips with the theory taught separately at school or camp, them the practical activities happen during your raft trip.
The programme is also fantastic life skills for kiwi kids who have ready access to many great recreational water activities.
Sea kayaking
An opportunity to take your nature lesson into the outdoors. Bring your students sea kayaking to experience close up the amazing wildlife on Otago Peninsula, seals, penguins and Royal Albatross or explore the Lower Taieri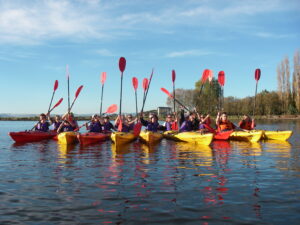 and its coastal native bush. Learn basic sea kayaking and water safety skills.
Bush craft
A great way to prepare for school camp. Your students will learn the basics about being in the bush and how to keep themselves safe and warm. Students can camp out overnight in bivi's, learn about the psychology of being lost and New Zealand Search and Rescue procedures. The damper and marshmallows are always a hit!
Orienteering
A fun way to learn map and compass skills. Teams can compete in timed events that challenge their navigational skills and also their ability to utilise the strengths of each person in their team.
Adventure Based Learning (team initiatives)
Your students will think these activities are pure fun but the learning opportunities are carefully structured to enhance and encourage your student's initiative, self confidence, team co-operation and self esteem.
School Camps
Wild Earth Adventures involvement with your school camp programme could include:
Prior to Camp/Activity
Wild Earth Adventures will:
Work with the coordinator to complete all the paperwork, including EOTC forms.
Provide gear lists
Plan Menus (we can even do the shopping)
Organise transport
Facilitate pre camp/activity lessons – including basic first aid, weather interpretation and necessary equipment.
On the Camp, Activity or Outdoor Trip
Wild Earth Adventures will:
Deliver an individually designed outdoor program which meets your educational and social objectives.
The programme could include: rafting, archery, sea kayaking, orienteering, tramping, problem solving/team building, leadership training, bushcraft, and the River Safe Program
Provide qualified staff
Provide logistics/cooking staff
We could also provide a range of rental equipment including packs, raincoats, tramping boots, tents, bedrolls, cookers, SPOT tracker and satellite phone.
All you need to do is talk to us about what you want and we can do the rest.
Let us help you give your students the wonderful outdoor experiences they deserve whilst ensuring their enjoyment and safety. All it takes is a phone call.