Wild Earth Adventures provides fun, safe positive experiences in the great outdoors.
Our Sea Kayaking eco-tours offer an amazing recreational opportunity that opens a whole new dimension of experience. Observe marine wildlife at close quarters and awaken a new sense of wonder and respect for these special animals and their unique environment.
Check out our skill courses in sea kayaking and bushcraft.
For a corporate adventure or team building activity with a difference, try the 'Taieri Challenge', a combination of raft and land based activities or personalized packages in any combination of disciplines including jet boating, archery, orienteering, ABL and sea kayaking.
Our curriculum based school activity programmes make it easy for teachers to get students out on exciting and educational rafting, orienteering, sea kayaking, archery, ABL or bushcraft activities.
Looking for a unique gift? Get a Wild Earth Adventures Gift Certificate for sea kayaking tour or one of our range of activities.
Wild Earth Adventures is committed to providing fun, safe and positive experiences!
Steve Brown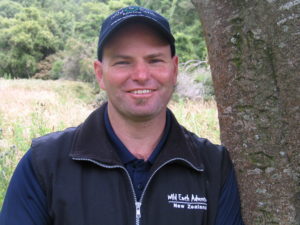 Steve Brown (BPhEd) has indulged his passion for outdoor activities since his early years. After formal training Steve turned his passion into a career through Wild Earth Adventures. Steve is a highly qualified, experienced instructor, with skills ranging from one-on-one experiences to the facilitation of large group programmes. A key driver for Steve is showing the splendor of the New Zealand outdoors to clients through a fun, safe positive experience.   Qualifications
Bachelor of Physical Education, University of Otago
NZ Outdoor Instructors Association qualifications in 4 disciplines
Certificate, Mountain Leadership, Otago Polytechnic
Education Outdoors NZ – Outdoor One Assessor
NZ Raft Guide, Senior Grade 3
ACC River Safe Programme Provider
NZ Boat Masters Certificate
Maritime Safety Authority, jet boat operator
Skills Active Assessor
Emma Ramsay Brown
Emma Ramsay Brown (MA) comes from an event management background and brings excellent logistical and planning skills to the company. She was the Director of the New Zealand International Science Festival, (a 120,000 visit event) for over two years. Subsequently Emma has managed contracts such as the ID Dunedin Fashion Show, a sell out event that gained international industry and media recognition, and Daffodil Day and Relay For Life for the Cancer Society of Otago & Southland. Emma's knowledge of event managements ensures clients receive effective and personalized service that results in a great outdoor experience.
Activities
All our activities utilize the fantastic wild southern region's environment as an integral part of the experience, celebrating the relationship between people and the natural environment. Wild Earth Adventures is all about getting people out to enjoy New Zealand's outdoors through rafting, bushcraft, team building challenges, tramping, sea kayaking and other disciplines. Wild Earth Adventures has run programmes and activities for the University of Otago, the Dunedin College of Education, Dunedin City Council, Dunedin I-Site Visitors Centre and many corporate and educational groups.
Instructors & Guides
Our instructors and guides are employed because of their qualifications and extensive outdoor experience. All the staff use their sense of fun and love of the outdoors to help make each activity an extremely positive and valuable experience for the clients.
Certifications
To ensure the highest safety Wild Earth Adventures are certified and audited by industry authorities. Wild Earth Adventures operates to best practice levels and holds Department of Conservation concessions, Dunedin City Council Resource consents and is annually audited to hold a Maritime Safety Authority Certificate of Compliance.